Appliance Repair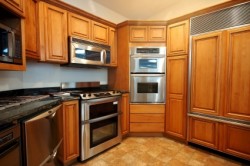 Do you rely on working appliances to keep your home or business functioning smoothly? A broken appliance can bring your routine to a standstill. Luckily, with expert appliance repair from a skilled professional, you can quickly get things back on track. In and around Cherry Hill, First Stop Appliance is your best bet for high-quality appliance repairs. We offer commercial and home appliance repair for a wide selection of brands and models, both gas and electric. Need appliance service in an emergency? We'll get a technician out to you as soon as possible. Our top priorities are quality workmanship and exceptional customer service, so no matter how serious your appliance malfunctions, we'll give you swift and lasting results. Ready to book your appointment? Call First Stop Appliance today! 
Scheduling appliance repair right away gives you your best shot at avoiding having to purchase a replacement unit. As a full-service major appliance repair company, we can offer solutions for:
Refrigerators
Washing machines
Dryers
Dishwashers
Ovens/ranges/stoves
Ice makers and freezers
Garbage disposals
Wine coolers
Microwaves
And more! 
When you call on First Stop Appliance to handle your appliance repairs, you'll also benefit from our more than 20 years in our industry. We've watched as the various manufacturers have updated and innovated their products, and we tailor our appliance repair services accordingly. We've also seen firsthand the various issues that can keep a fridge, oven, dishwasher, or other appliance from performing at its best, and we know the most effective steps to take to solve these common problems. Take advantage of our experience in appliance service by calling now. 
Licensed & Insured Appliance Repair Service
First Stop Appliance is proud to be fully licensed and insured for the work we do. With our technicians at your disposal, you can breathe easy knowing your valued appliance is in capable hands. Plus, we stand behind our work with a 90-day parts and labor warranty. This will ensure that you get lasting repairs for your appliances, so you won't have to worry about replacement anytime in the near future. With our quality craftsmanship, you may be able to add years to the life of your washer, dryer, or refrigerator. 
For more on what sets First Stop Appliance apart from other Cherry Hill-area appliance repair service providers, call or e-mail us today. From simple parts replacements to more complicated procedures, you can trust our technicians to provide you with some of the best appliances repair in the region. We're available 24/7, so get in touch now to get started! 
Appliance Repair Services
Appliance Repairs
Major Appliance Repair
Appliances Repair