Oven Repair
Whether you're a professional chef, an amateur cooking enthusiast, or a stay-at-home parent, your kitchen plays a big role in your life. In each of these cases, a broken cooking appliance will throw a major wrench into your routine. Luckily, First Stop Appliance is standing by to provide the exceptional oven repair you require to get things back on track. Our team of oven and stove repair specialists will work quickly and efficiently to restore your appliances to their best possible condition, so you can get back to cooking, baking, and entertaining in no time! Give us a call today to discuss your needs, and to book your appointment. We even offer 24/7 emergency services. With First Stop Appliance, help is on the way.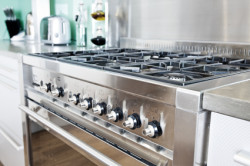 Our experienced oven service technicians can resolve all sorts of issues, including:
Oven not heating
Overheating
Uneven heating
Stove burners not heating/lighting
Oven door not closing or sealing completely
Heat on the outside of oven
Failure or malfunction of lights, timers, and other features
Complete failure to turn on
And more
We've been providing oven repairs for major brands and models for more than 20 years. Whether you need Thermador oven repair, Dacor oven repair, or oven repair for another manufacturer, you can expect us to get the job done right. We also offer both electric oven repair and gas oven repair to homes and businesses in the Cherry Hill area. Our technicians are well versed in what sets various brands apart from one another, and we'll tailor our oven repairs accordingly. We're committed to lasting results, and that means treating each oven, stove, range, or cooktop with care. 
Qualified Stove Repair Experts
In addition to our extensive experience, First Stop Appliance is proud to be licensed and insured. Why do these qualifications matter? The complex circuits and electrical/gas connections involved with most oven and range repairs mean DIY and amateur fixes are simply a bad idea. For optimal results, it's vital to hire an oven repair service that is properly trained. In and around Cherry Hill, First Stop Appliance is that company. We even stand behind our electric and gas stove repair with a 90-day parts and labor warranty for your protection and peace of mind. 
If an oven not heating has brought your kitchen to a standstill or temperature regulation problems are making it hard to get your favorite recipes right, it's time to call First Stop Appliance. Quality workmanship is our top consideration. Contact us now to get started! 
Range Repair
Electric Oven Repair
Oven Repair Service